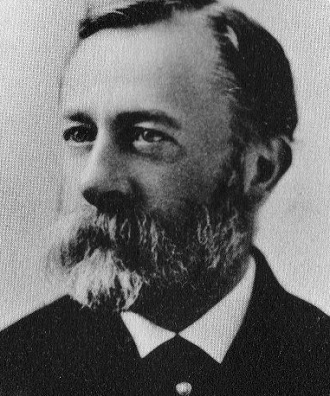 Alfred Bierstadt
was a German born painter raised in the United States. He was born in 1830 and at just the age of one was brought by his parents to New Bedford, Massachusetts, from Germany. He is known for his expansive landscape oil paintings that capture the spirit, adventure, and natural beauty of the American Westward Expansion.
In his youth, Alfred Bierstadt seemed to have a natural affinity for illustration, creating impressive sketches from a young age. In 1851 at the age of 21, he began studying oil painting. He returned to Germany in 1853 to study painting at the Dusseldorf Academy.
Bierstadt was at the tail end of a movement of artists that studied at the Dusseldorf Academy, a group sometimes referred to as the Dusseldorf School of Painting. These artists were characterized by exceptionally detailed yet fanciful landscapes. Leading members within the school advocated mainly subdued color palettes and was inspired by the German Romantic painting movement. Though Bielstadt applied to academy, he was not formally accepted, and ended up studying under his American friend Worthington Whittredge while in Germany. He is still, however, considered within the group of painters that classify the Dusselfdorf School of Painting.
After returning to the Massachusetts in 1857, Bielstadt began to teach art for a period before committing to painting full-time. 1858 found him exhibiting a large-scale Swiss landscape painting at the National Academy of Design, boosting his notoriety and honorary membership to that Academy. He began painting landscape scenes of New England and upstate New York. His work and technique made him an important artist within the Hudson River School.
The Hudson River School was an informal group of landscape painters whose work was influenced by romanticism. Their work seemed to uniformly reflect peaceful, pastoral settings that never included the grittier reality of life and death. The elements of the Hudson River School's paintings are very realistic, yet many paintings are composed from dozens of sketches artists would make on wilderness expeditions. It was impossible to bring a full set of painting materials to these remote areas, so the multiple sketches that were made on these long journeys would invaluable and provided the blueprint for many future paintings.
Beginning in 1859, Bierstadt was one of the artists that traveled westward. His first trip was accompanying Frederic W. Lander, a US government land surveyor. When he returned to New York City with his sketches, he produced numerous oil paintings using his sketches for reference. He was a prolific artist, producing possibly more than 500 paintings in his lifetime.
In 1863 Bierstadt again traveled west, this time with the author Fitz Hugh Ludlow. Ludlow was a journalist and author known as a scholar and intellectual of the time. He chronicled his travels throughout the westward expansion, and Bierstadt accompanied as an illustrator. This trip proved to be hugely impactful, as many of the sketches from his travels provided the basis of his large-scale paintings for exhibition throughout the 1860s. In addition, Bierstadt met and later married Ludlow's wife, Rosalie.
Bierstadt was drafted into the American Civil War, but paid a substitute to serve in his place. During this time his painting "Guerrilla Warfare, Civil War," was his only piece about the civil war. Even this work, with it's grim subject matter, was observed by curator Eleanor Jones Harvey as being "quintessentially that of a voyeur, privy to the stories and unblemished by the violence and brutality of first-hand combat experience."
As Bierstadt's notoriety expanded, his paintings, particularly those of Yosemite, made him a hot commodity amongst explorers planning expeditions out west. He was commissioned by independent explorers for repeated expeditions, as well as being hired by the Atchinson, Topeka, and Santa Fe Railroad to do initial sketches of the Grand Canyon.
Bierstadt was well regarded as a master of technique, his paintings showing with precise detail small delinitations that could serve as landmarks. When painting the Rocky Mountains, he provided a landscape that educated thousands that couldn't see the mountains in person as to their shape and challenges. Massive canvases that allowed minute details to grow in significance established him as a preeminent painter of American western landscapes.
"The Rocky Mountains, Lander's Peak," painted in 1863, shows Lander's Peak summit in present day Wyoming. Bierstadt took creative liberties within his work to alter landscapes and therefore increase their dramatic appeal or effect. The foreground of the work shows a campsite of Native Americans. Some critics would say Bierstadt's depiction of these paintings made the West look like a kind of Eden. In reality it seems Bierstadt painted his pleasant impressions from his journeys much more than the rougher or less tasteful parts of his travels.
Bierstadt was a talented self-promoter as well as an artist, and he succeeded in organizing a huge reception for his Lander's Peak painting. It's ten foot size made it ideal for large shows or the homes of the new class of millionaire emerging within the United States. It was purchased in 1865 by James McHenry for $25,000, though Bierstadt later re-acquired the painting and gave it to his brother Edward. Today, "Lander's Peak" sits on display in the Metropolitan Museum of Art in New York opposite Bierstadt's contemporary, Frederic Edwin Church's "The Heart of the Andes."
Landscapes of the American West is a subject that Albert Bierstadt always returns to, as artists have always returned to beloved themes -
Vincent van Gogh
his Sun Flowers,
Paul Cezanne
his Apples, and
Claude Monet
his Water Lilies. As his popularity grew, some critics complained that Bierstadt's work was too romantic, his lighting excessive and his images too glorifying of the West, which was in reality a rough and unsettled land. When his wife became ill with consumption in 1876, Bierstadt relocated with her to a warmer climate in the Bahamas, though he still traveled to the West. His work was increasingly less highly regarded and criticized for being overly theatrical.
In 1882, Bierstadt's New York studio was destroyed by a fire, taking with it a great number of his paintings. At the time his death in 1902, the public's interest in epic landscapes had subsided. His work became known well again in the 1960s as his small oil studies were examined. It was observed at that time that his contribution to the art and illustration during the Westward Expansion was immeasurably important.